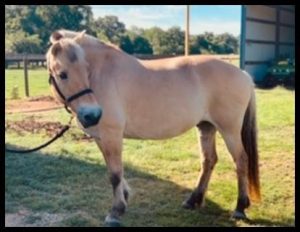 Earlier this month, we said a tearful goodbye to two of our retiring and dearest program horses, Hadley and Runa.
While plans had already been made to retire Hadley, it became increasingly apparent over the past couple of months that our dear Runa was giving us signs she was ready for retirement too.  We worked closely with our vet and farrier to confirm this was the right decision and came to the conclusion that it was time to retire her from our program.  While we planned for this over the summer, the transportation arrangements for Hadley came through for an earlier departure than expected.  It only made sense to send Runa along, as both were returning to their original owner, a long-time SIRE supporter and current board member, Mary Elizabeth Wise Sand.  The girls will spend the rest of their days as pasture mates on a picturesque farm near the Texas Hill Country town of Fredericksburg.
Runa, age 24, and Hadley, age 20, have given 11 and 10 wonderful years, respectively, to our program.  We thank these beautiful creatures for the loving care they took with so many of our riders.  They brought great joy to the lives of our staff, volunteers and riders.  While we will miss them both terribly, we are so happy they have a loving home and the best of care for the rest of their days.