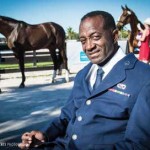 All of SIRE watched in awe this spring as SIRE client (and so much more) Derrick Perkins began his campaign to represent the United States in international competition as a para-equestrian. Those of us who follow upper-level dressage were proud and just a bit envious knowing Derrick was competing at the Wellington, Florida showgrounds in the Adequan Global Dressage Festival. Not only that, but Derrick also was interviewed in the show magazine. Below is Derrick's answer to one question. Read the rest here.
What's been some of the more rewarding parts of being a Para-Dressage athlete?
For me, it's still therapeutic riding. I'm still getting stronger and better. Obviously,it's nice to be on this stage,especially on this level. It was awesome to go into [The Stadium for the Para-Dressage exhibition during "Friday Night Stars"].The fact that it's representing the USA [is also rewarding].

It's kind of a change. For years I did that with the Air Force and then being in sports on the Olympic level. I thought my entry would be taekwondo. When I was active duty, that's when I really got serious. I was looking forward to going that route, but then I got injured. Being able to participate now, and potentially participate – I will participate – on the Paralympic team and represent the U.S., is a big motivator. I got my qualifying score yesterday, so I was really excited about that.
UPDATE: Congratulations are in order for all the athletes competing at the United States Equestrian Federations's Para-Equestrian Dressage National Championship in June 2014 at the USEF headquarters in Gladstone, New Jersey. The championship also served as the Selection Trial for the Alltech FEI World Equestrian Games™ (WEG). For the sixth time in history, Grade II Para-Dressage rider from Unionville, Penn., Rebecca Hart, took home the 2014 USEF Para-Equestrian Dressage National Championship with an average score of 74.642.
Observers noted the event was one of the most competitive Championships/Trials in Para-Dressage history. We're very proud of Derrick Perkins and NTEC Hans (Oldenburg), owned by Kai Handt, who placed 5th in Grade 1a with a score of 60.497%. Though Derrick did not qualify for the World Games, to be able to go from competing at local shows to the national stage in less than a year remains a noteworthy accomplishment. We wish Derrick much success as he continues to seek his dream and Rides Beyond!
Derrick also takes his role as an ambassador for para-equestrian sport seriously. He took time out of his preparing for the championships to participate in the first ever Wounded Warrior Introductory Seminar in Wylie, Texas May 2014. Did you know therapeutic horsemanship grew in large part through its use in rehabilitating wounded soldiers from WWII? Read more about the seminar and military history and therapeutic riding here.