[vc_row][vc_column][vc_column_text]
SIRE rider awarded with recognition in
"The Wall Street Journal for Horses"
[dt_gap height="20″ /]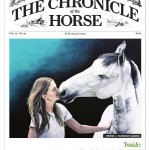 SIRE gets special attention in June 23rd issue of The Chronicle of the Horse. It's the Junior & Pony Issue, jam-packed with great content!
Best of all, SIRE rider Emileigh Marsh is featured. She's one of just 18 special young riders. Take time to read the captions. Each rider truly is inspiring.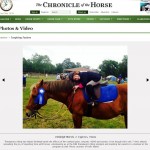 Emileigh's story reads,
Therapeutic riding has helped Emileigh battle the effects of her cerebral palsy, seizures, ADHD and anxiety. Even though she's only 7 she's already spreading the joy of spending time with horses. She rides and volunteers at the SIRE therapeutic riding program and has inspired her parents to volunteer at the program as well.
In calling for nominations, the Chronicle asked the public,
"Do you know an extraordinary junior who inspires everyone around? We're looking for special equestrians under 18 who are excelling in a major way to feature in The Chronicle's annual Junior and Pony issue. Maybe they're organizing fundraisers or they've overcome incredible obstacles at a young age, or they're achieving in a big way on horseback and in another venue."
Congratulations, Emileigh! And a great big thanks to her mom Kelly, who spends hours at the ride-a-thon each year. She also represents Hockley riders' families on the Friends and Family Committee for the SIRE board. Dad, Bobby, has helped tremendously with the SIRE Hockley grounds and facility.
[/vc_column_text][/vc_column][/vc_row]