PJ Murray Honored for Boundless
Generosity as an Instructor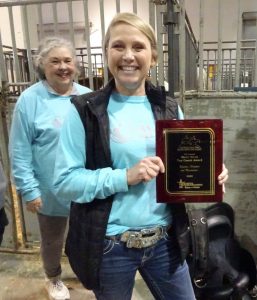 SIRE's talented riders weren't the only team members hauling home the hardware at Top Hands.
PJ landed the Steve Mack Top Coach Award. Involved with SIRE since 2007, PJ's recognition by Top Hands' officials for her instructional leadership, expertise and compassion confirms what SIRE clients, their families and her colleagues have known for more than a decade.
"PJ is always inspiring people to try their best, reminding them that winning is a nice consequence but enjoying the effort is the true accomplishment," explained Anthony Busacca, Director of Education and Training at SIRE. "One of the great highlights of PJ's work is her consistent attitude of helping people. When it comes to an event like Top Hands involving riders or instructors outside of SIRE, she'll be jumping in to help people who need it regardless of where they come from."
While honored by her achievement, PJ shifts the attention to the life-impacting work of her team and coworkers.
"I have the privilege to work with a wonderfully, talented staff, a group of incredibly dedicated volunteers, astoundingly courageous riders and the gentlest of all equines as my partners," said PJ, who also serves as Hockley's Head Instructor with an additional certification as an Equine Specialist in Mental Health and Learning. "Like most people, I came to SIRE for the horses. Now, I leave each day in awe of the indomitable spirit that is inside each person."