SIRE Riders Earn 64 Top Hands Medals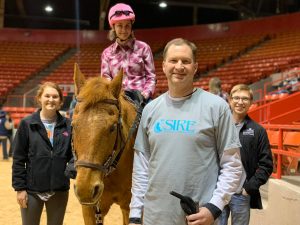 Houston Livestock Show & Rodeo time means go time at SIRE and not just for the western fashion statements and unbridled love of horses. SIRE's bold, brave riding team makes its annual grand entrance into the iconic competition as part of the Top Hands Horse Show, an event designed specifically for rider teams representing area therapeutic riding programs.
More than two dozen SIRE riders seized the opportunity to compete and shine as champions, a too-rare occasion for people with special needs. Top Hands affords these accomplished horsemen and women time to exhibit their equestrian skills among their peers and compete to be the best in their disciplines just as able-body riders do.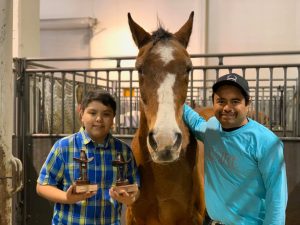 SIRE's team dominated the two-day competition, achieving 64 total belt buckles, medals and awards. Accomplishments included 17 first place winners, 12 seconds, 13 thirds, seven fourths, six fifths, seven sixths, two Honorable Mentions, and many heartfelt accolades for riders' true-grit achievements that medals could never fully reflect.
"We are incredibly proud of the amazing showing and perseverance of our athletes, both human and equine," said Hockley Site Manager, PJ Murray. "Our wonderful team of instructors and volunteers navigated challenging circumstances to get our rid
Joe Wappelhorst, Executive Director at SIRE, pointed out the critical importance of a true competition like Top Hands: "Top Hands helps teach life lessons about planning, practice, determination, winning well and accepting a loss. This is important so people with special needs can learn that losing is a part of life, and there are rewards for hard work and skills development."ers to each event with nary a hitch in our giddy-up. It was an amazing testament to the strength and fortitude of our collective SIRE team."