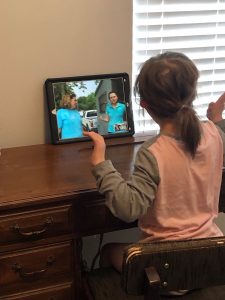 While SIRE locations may be closed to our riders and volunteers, our Site Managers and Instructors are creating a way to bring the sessions into the homes or
our SIRE riders. With the help of technology, the SIRE staff schedule several times during the week to connect virtually with riders and volunteers. During these interactive live conference calls, staff members provide instruction on topics such as equine feed, breeds, grooming, saddle fit, etc. They also invite the participants to ask questions and interact with each other and, the horses. This has been an unsettling time for all of us but for most of our clients the disruption in services and abrupt changes in their routines are devastating. SIRE's online sessions are a great opportunity to allow for much needed social interaction and reassurance while keeping safety as the number one priority.
Here are just a few comments shared by some of our families:
Michelle has really enjoyed the last two ZOOM meetings and it really raised her spirits.  Thanks for doing these and we're looking forward to more.

OMG- Dontrell is raving about the video. All the girls enjoyed it tremendously. Thank you so much Helen. We all need a little sunshine right now.
SIRE is doing weekly educational Zoom sessions about horses and ponies. Omar was able to see the horse he rides, Rudy!