INSTRUCTOR TRAINING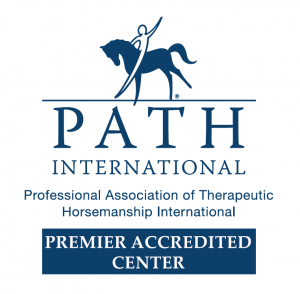 SIRE's team approach includes a PATH certified therapeutic riding instructor, 1-3 volunteers and a specifically trained therapy horse. Small classes of 1-4 ride in a protected arena or outside the arena utilizing man-made and natural obstacles.
SIRE provides opportunities throughout the year for volunteer continuing education and instructor training events.
SIRE Education and Training — Events for Instructors and Volunteers:
Instructor Training Course
This eight-week Instructor Training Course is offered during the spring and fall semesters.

The course is designed for people preparing for PATH International Therapeutic Riding Instructor Certification and volunteers seeking more in-depth knowledge. For more information on the certification process visit PATH International.
PATH International Riding Instructor Workshop and Certification
SIRE hosts PATH Intl Riding Instructor Workshop/Certifications one to two times a year.

These  workshops are open to all PATH Intl members.

The certification is open to Instructors-In-Training who have completed phase one of the PATH process.
Instructor and Volunteer Continuing Education Classes
Throughout the year, SIRE offers continuing education classes on a variety of topics at each of its three locations.

Topics include disability awareness, horse handling, lesson planning, class structure and teaching techniques.

There is no fee for SIRE staff and volunteers.

The classes are open to the general public for a moderate fee.