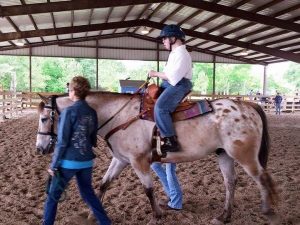 James Giovanniello was born in Miami, FL on July 13, 1978 and moved to Texas in 1993. He lives with his father Joe in The Woodlands. His mother passed away in 2000, the same year that James graduated from The Woodlands High School. James attends Bridgewood Farms and participates in Ceramics, Horticulture, Job Training, Physical Education, Social and Life Skills, and Academics.
James has been riding with SIRE for 22 years and has participated in many of our events including Saddle Up for SIRE, Top Hands, and Special Olympics at both the Regional and State level. He also attends the National Down Syndrome Congress National Convention each year.
James rides an Appaloosa horse named Bennett. His riding has dramatically improved allowing him to control his horse independently with only the guidance of his leader and side walker. In addition to riding, James loves music and is especially fond of The Chicken Dance. He's very good at any game that involves a ball and can sink baskets like a pro.