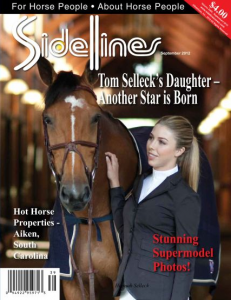 By Dani Moritz
How do you describe therapeutic riding — what it is, what it does? You could describe it as sensory stimulation that inspires physical and emotional improvements among the mentally and physically disabled. You could say it mimics walking, instills confidence, is a platform for learning — all of which are true, but none of which truly captures precisely what therapeutic riding really is.
Perhaps the best way to describe it is making miracles.
In reality, therapeutic riding is the feeling a mother gets when she hears her 7-year-old daughter laugh for the very first time at the simple sight of a horse sneezing. It's the tears that rush down a parent's cheek as her child speaks his first word to the trusty steed beneath him. It's the smile that overcomes a father's face when his little boy holds himself up for the very first time and proves to the world that he has what it takes. You could even describe it as a little girl who once struggled through every day, knowing and accepting that it might be her last, but now has something to live for — because each week she battles on in another day atop her favorite horse.
Every day across the country, thousands of volunteers, instructors and, perhaps most importantly, horses, change the lives of people who otherwise have little to look forward to. They give people their first words, their first smile, a way to communicate and the freedom of movement to those otherwise confined to a wheelchair.
At SIRE, in the Houston, Texas area, they've been inspiring these miracles since 1974 — each of the aforementioned miracles included.
You can read the rest of Making Miracles at SIRE Therapeutic Equestrian Centers here.