* * * MEDIA ALERT * * *
For Immediate Release
Houston, TX
Hockley, Texas, October 24, 2014 –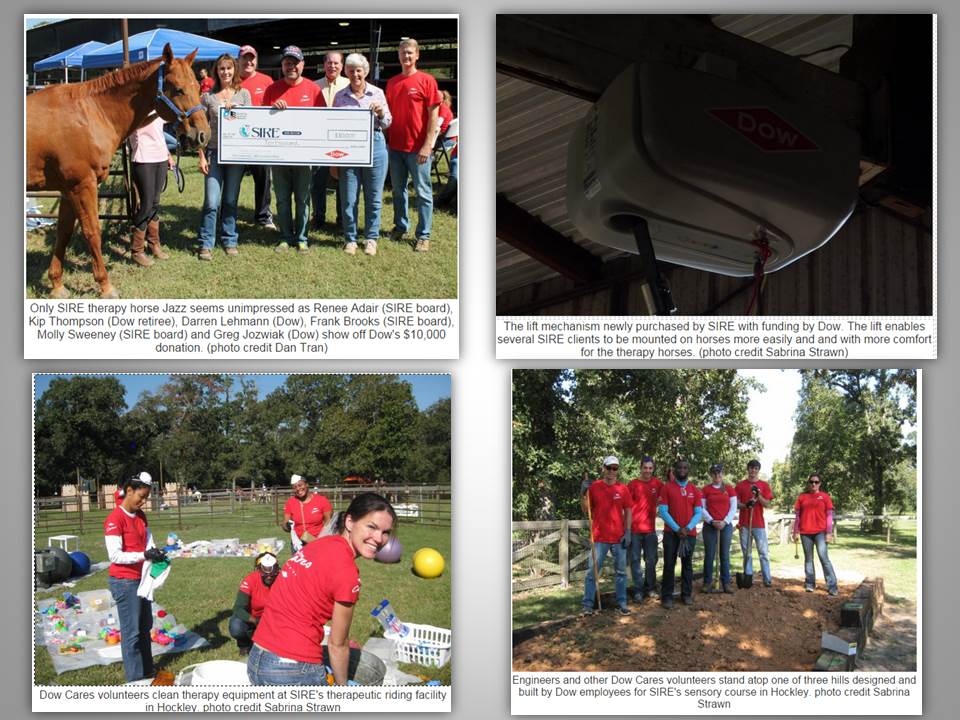 Putting the words of the "Dow Cares" motto into action, 65 employees from The Dow Chemical Company spent an October day making improvements at a nonprofit therapeutic horsemanship facility in Hockley, 40 miles north of the Houston Dow Center. Of the three sites operated by SIRE in the Houston area, Hockley serves the most clients, with more than 100 who come every week ranging in age from 3 to elderly with diagnoses from autism to spinal cord injuries.
The commitment from Dow extended well beyond a day. Dow's Commercial vice president for North America Packaging and Specialty Plastics, Greg Jozwiak, also thanked company volunteers, saying "We live in the community, we work in the community and we enjoy serving the community," stressing the importance of volunteerism.
Caring in Action
Volunteers witnessed the aging mechanical lift that had enables mobility-impaired riders to mount their horses safely. Thanks to Dow's support this lift has been replaced with a more reliable version. While moving about the facility, employees also had the opportunity to watch therapeutic sessions with some of the 300 SIRE clients and 27 therapy horses in total that will benefit from all the work.
Dow's relationship with SIRE has been growing for more than a year. Last year, employees cleared trails, cleaned out storage areas, built and painted sheds, and installed a speaker system and a fence at SIRE's Spring site.
This year, employees split into different teams to level the stalls for horses' comfort and safety, to remodel bathrooms, and to sanitize educational tools used daily in therapeutic sessions. Culminating weeks of planning and design work, a group of young engineers enjoyed putting their skills to work building a series of hills to enhance SIRE's outdoor sensory course.
The Connection
One key organizer was Darren Lehmann, who heard about the therapeutic equestrian center at the Abilities Expo when he was exploring options for his teenaged daughter, Sarah. It took three months for Sarah to feel comfortable just mounting a horse. Three and half years later, she is an avid rider who delights in her lessons and horse shows.
Another primary organizer was Dow's Information Tech Leader and weekly SIRE volunteer, Barbara Migl. Due to her own equine experience she first volunteered as a horse leader, someone who leads the client-rider's horse around the ring. "I could spend my Saturdays on the treadmill or lead horses," she said. But it didn't take long for the rider's progress to start leading her along with her passion for helping others.
"For once [the clients] are looking down at people. They are king! You can see the pride," said Migl. Barbara now has turned her focus in her SIRE volunteering from the horses to being a sidewalker, someone whose primary responsibility is assisting the client riders.
Using Dow Networks
Still more impetus for the event came from two of Dow's six employee networks, the Disability Employment Network (DEN) for employees and their children with learning and physical differences and the New Professionals Network(NPN) for employees who have been with the company less than eight years.
When Migl and Lehmann first discovered they both had a strong connection to SIRE, they knew they had to give back to the organization that gave so much. Lehmann and Migl went to both the DEN and the NPN and set up the work day for SIRE's Spring site last year for which 54 workers volunteered. This year, with the help of twelve people from the NPN, 65 people volunteered.
Tojh Williams, NPN chair and Piping Lead Engineer for two and half years, knew little about Spring's work day. But once word of Hockley's event got around, he wanted to know more. He saddled up to volunteer shortly after and has since said that he'd love to do it again.
By the end of the work day it became as clear as the newly uncluttered grazing pastures that everyone enjoyed providing a better environment for the clients and horses of SIRE therapeutic horsemanship.
About Dow
Dow (NYSE: DOW) combines the power of science and technology to passionately innovate what is essential to human progress. The Company is driving innovations that extract value from the intersection of chemical, physical and biological sciences to help address many of the world's most challenging problems such as the need for clean water, clean energy generation and conservation, and increasing agricultural productivity. Dow's integrated, market-driven, industry-leading portfolio of specialty chemical, advanced materials, agrosciences and plastics businesses delivers a broad range of technology-based products and solutions to customers in approximately 180 countries and in high growth sectors such as packaging, electronics, water, coatings and agriculture. In 2013, Dow had annual sales of more than $57 billion and employed approximately 53,000 people worldwide. The Company's more than 6,000 products are manufactured at 201 sites in 36 countries across the globe. References to "Dow" or the "Company" mean The Dow Chemical Company and its consolidated subsidiaries unless otherwise expressly noted. More information about Dow can be found at www.dow.com.
About SIRE
The MISSION of SIRE is to improve the quality of life for people with special needs through therapeutic horsemanship activities and therapies, and educational outreach. SIRE is a Professional Association of Therapeutic Horsemanship International premier accredited center serving 240 riders per week with three sites in the greater Houston area: Hockley, Richmond, and Spring. SIRE is a 501(c)3 nonprofit corporation and donations are tax-deductible to the extent allowed by law. Information regarding enrollment, volunteering, and donations can be found at www.sire-htec.org.
# # #