When Thomas Hopkins searched online for volunteer opportunities in the Tomball, Texas, area SIRE's horse therapy facility in Hockley popped into the results. Interacting with people with special needs and, though he had no experience working with horses, being around them intrigued him, so he registered for a Saturday volunteer orientation.
Then he met therapy horse Runa. He remembered her being big but gentle and that she made him instantly feel less intimated by the horses. Thomas was the only man to attend the session, and he felt welcomed because everyone was glad to have a male volunteer, which was uncommon. "It was nice to fill what seemed like an important spot," he pointed out.
Each year at SIRE, individuals like Thomas donate more than 30,000 hours of service—the equivalent of 15 full-time employees working for a year. Volunteers can assist with almost any task. They are side-walkers (providing physical and verbal support) and horse leaders (assuring safe-horse handling during each session). Outside the arena volunteers tack horses, clean stalls, do minor repairs, assist in the office and more.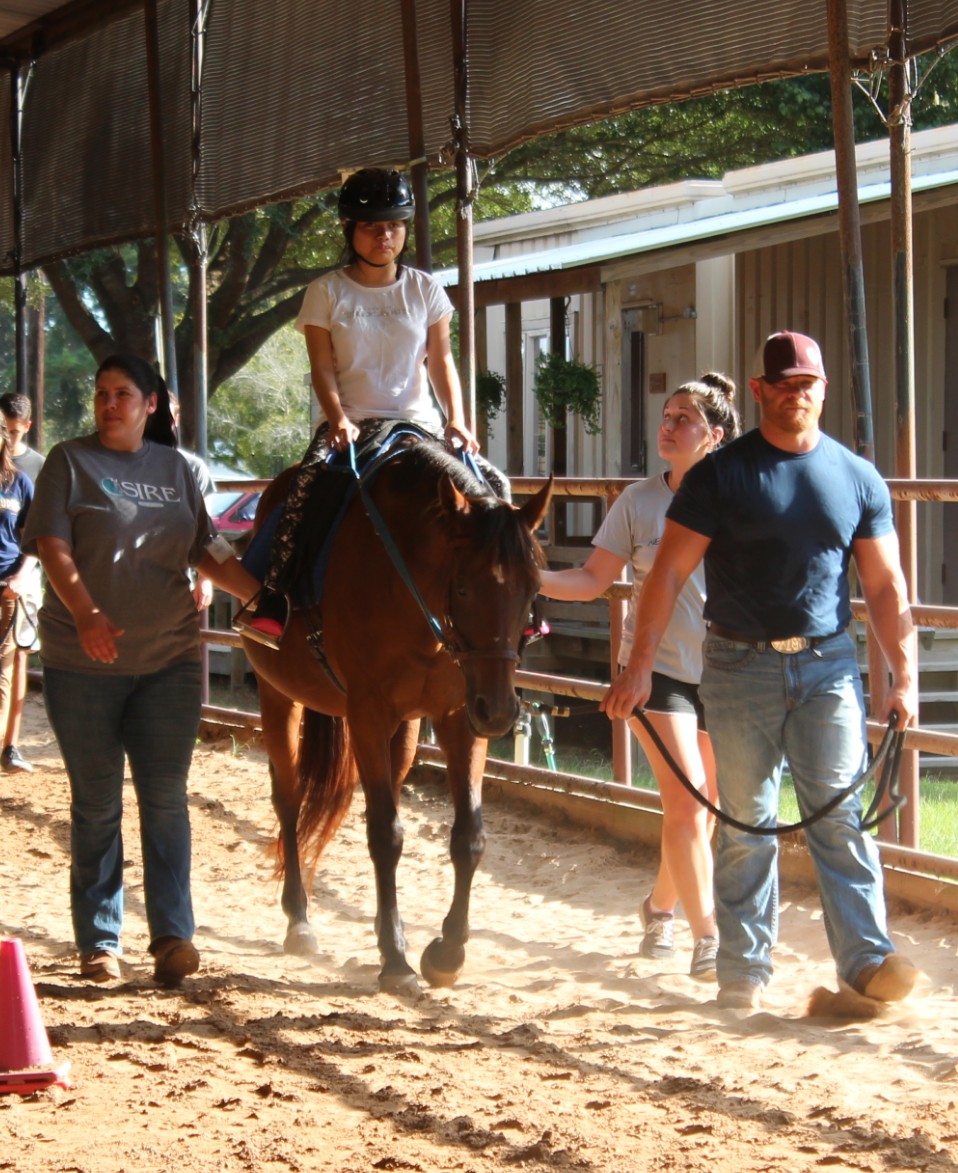 "I really enjoyed the atmosphere," he said. "The facility was really nice and organized, and the staff was so happy to have me. They went out of their way to teach me anything I needed to know. It was like I joined a family on my first day. Being a part of such a great group providing a fun and beneficial service is heartwarming. It is hard to appreciate how great SIRE is until you step foot out at the stables and see the atmosphere it creates for students."
A mechanical design engineer, Thomas described himself as "very structured and process oriented," so he was surprised at how relaxing his volunteer time at SIRE was.
"If I'm helping someone, I like to give them all of my attention, and I take the opportunity very seriously," he said. "I quickly realized riders were having fun, too, and I could relax and let the time investment turn into relationships with riders, families, horses and other volunteers. It wasn't as serious as my head made it out to be."
When he's not working or volunteering, Thomas said he enjoys weight lifting, cooking and spending time with his dogs.
"I live to help others," he explained. "I try to always have a smile on my face and see every person for their potential. My greatest joy comes from the happiness in others. If I can be a part of that happiness, then I will. Volunteers show up wanting to give back, and I personally feel guilty sometimes walking away with so much."
For more information about how to volunteer, please contact Kateri Hendley at 281-356-7588 or Kateri@sire-htec.org.